What the... ? It's OK, i'm back for the long haul. Year two is now behind me, and I'm feeling a bit refreshed. I landed a choice internship for the summer, which means that I will actually be able to afford to get some new records (but has that ever really stopped me?). Looks like The Z Gun is nigh off to the presses, so be sure to check that out once you get the word... i'm guessing that there will also be an online update over there for Jue as well. This year's already panning out to be a great one, with
Siltbreeze
,
Not Not Fun
,
SS
,
Woodsist
, and
Columbus Discount
slamming home winner after winner... but the real shocker has got to go to...
The Takeovers
Bad Football
(Off, 2007)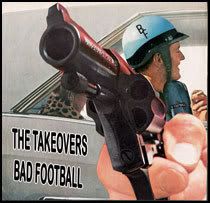 Sure,
Big Bobby Beerbelly
made an appearance on my Top 25 of '06 with his double LP
From a Compound Eye
, but a when it came down to list-time it seemed as if
Normal Happiness
' medocrity consumed all of Pollard's second wind (fart). I got word today that former GBV-bassist and
Off Records
' own
Chris Slusarenko
has just released the new Takeovers album. The first Takeovers album was released last summer and was one of the most disappointing purchases that I made since buying a copy of that second
Kula Shaker
album from the $3 bin at the old
Used Kids
. I went to the Off Records site in order to listen to the available tracks and I have to admit that they are fantastic. First of all, it is so nice to not hear the heavy hand of Todd Tobias. Instead the sound of
Waved Out
,
Not In My Airforce
prevail... whatever happened to
John Shough
's
Cro-Magnon Studio
?
Now that was some beef, baby!
Stephen Malkmus
,
John Moen
(former
Jicks
drummer),
Tad Doyle
(
Tad
, baby!) and
John Peters
(
Mudhoney
) lend their hands, but for the first time in a long, long time Pollard sounds like he's actually got some wind in his lungs, which can't be said for his new
Silverfish Trivia
EP, blech. Now, Off's only got 3 songs posted, so I can't vouch for the other 9... but I couldn't be more excited about this. Head over
there
and have yourself a listen, if you don't believe me.
Editor's note: the official word on this is "half great."