marble stature
...in
The Offense
we trust! Rural bullshit from the heart of
Fox Point
, Providence, RI 02906
Wednesday, August 30, 2006
1.09|
3 from the Listening Station, 2006 so far...

The more I make these nerdy Best of the year lists, the more I realize that every year is a good year for records... the variables for how I feel about the year are really all about me: what i happen to hear, what moods i happen to be in, what albums are recommended to me, what albums i "find". No matter what, I'm always going back and grabbing something from the recent passed that i "missed". This is one of those years where my major transitions in life have encouraged my ear to search for the familiar, the accessible and the reliable. Here's three of the many albums consistently spinning in the philmobile:

Fortunately for me: Touch & Go's brooding yet romantic indie rock outfit The Black Heart Procession released their 5th studio album, The Spell this year. Like clockwork- The BHP deliver winding and eerie piano driven tales of love and loss on this one. The production and instrumentation are extremely consistent with those of their previous album, Amore Del Tropico, and executes the kind of sweeping and enticing melancholy one often finds in bands like Mercury Rev or even Nick Cave and The Bad Seeds. Solid.

And then there is Morrissey's Ringleader of the Tormentors. Now don't get me wrong folks.... I'm not one of those people you'd be likely to find front row at a Moz show throwing his shirt at the last of the famous international playboys- but we're gonna have to face the fact that we're very lucky this man continues to enlighten us with his witty and tortured songwriting. ...Tormentors is no exception to this man's consistently amazing output. His single- "You Have Killed Me" is another heartstopping heartbreaker. Oh Morrissey how I hope you retain your angst and continue your solo work and refrain from lending your talent to the highest bidding indie rock band (see: Johnny Marr joins Modest Mouse). There really is no such thing in life as normal...

If you know me, you know I'm a sucker for most things Thrill Jockey. Besides the obvious Tortoise Box Set that is well worth the cash... the interesting and worthy yet somewhat lacking Extra Golden...and the always incredible Howe Gelb... But....my favorite of the last few years, CALIFONE, are soon to release Roots and Crowns. Since this album has yet to be released, I'll put it simply: this is the Califone every Califone fan wants to hear. A mature combination of the sensibilites of their last two Thrill Jockey releases: Heron King Blues and Quicksand/Cradlesnakes- Production by Boxhead Ensemble conductor Michael Krassner... Americana mutations by way of Tim Rutili & Co.- this one is so close to perfect...If you like that sort of thing that is.

Tuesday, August 29, 2006
1.08|
So I finally figured out the problem that I have with the whole "power-pop" thing: the power. Where is it? Most of the power-pop crap I've heard is polite and overtly anal; I guess that's the crowd that we're dealing with anyways, so I guess the dogs reflect the owners after all. I think that those first three
Cheap Trick
albums just decimated all of the power out of power-pop, leaving the rest of the popsters to cruise on the fumes. Nearly two years ago, however, Chicago-based reissue elitists the
Numero Group
unleashed the double disc
Yellow Pills: Prefill
compilation and became a minor phenomenon. The compilation was, for many, the introduction into the Numero Group reissues (which have gone on to be quite popular and respected) because the material was so drastically different from the NPR-friendly releases. Although it was clear that Yellow Pills main-man
Jordan Oakes
has got to have quite an impressive collection of power-pop records, a lot of the material was kind of a snooze; real wimpy-like. That being said, all it took was one fucking righteous song to make the whole double disc worthwhile, and Prefill has "The Sun" by
Toms
, which is possibly one of the greatest songs I've ever heard… which alone is worth the $20 for the compilation, without it… I'm not so sure. That being said, if one of the leading authorities in power-pop criticism can only find one diamond in the rough in his big moment to shine, I would say that the whole power-pop thing doesn't have a whole lot to offer me. A few weeks ago, I picked up the
Hyped to Death #101
compilation and came across this song called "Person to Avoid" from this group from Lawrence, Kansas called the
Regular Guys
and just couldn't get it out of my head. It sounded like it came from a practice tape from the first
New York Dolls
practice; everybody gets together and tries to play along with a riff (or in this case a chorus) that the guy who started the band came up with even though he doesn't know how to play any instruments. "Person to Avoid" is just one of those great songs that inspires people that rock 'n roll is in the flesh and not in the know-how.
Regular Guys
Jayhawk Pop
(Hyped to Death/Teenline, 2004)
I didn't really like this one at first; in fact, it kind of pissed me off, seeing as I was so excited for it to show up in the mailbox. All of the trappings that irritated me about power-pop to begin with, were in full effect from the get-go, and I didn't even see "Person to Avoid" on the track list. I just tossed it to the back seat of the car and put the
Hyped to Death #101
comp back in. I noticed last night that "Person to Avoid" was in fact on
Jayhawk Pop
, and I decided to fall asleep to the album last night after watching the, always exciting, Emmy Awards show. I really started to like it, and have been listening to it all day at work today. The Regular Guys only had one release in their two-years (1979-1981), that being a little four-song ep that
Trouser Press
named "one of the best… of the…" or something. Those four songs are the first four tracks on
Jayhawk Pop
, but are kind of the worst four songs on the whole collection. Now that I've listened to this thing a bunch of times, I've gotten past the pussy production-style of the ep, and have determined that the songs aren't that bad, but they are still nowhere near as good as the eleven studio demos, and the ten great live songs that round out the release. I guess a band breaking up after one release isn't that bad, because they were spared from a producer coming in and molesting all of these great songs (we are dealing with power-pop guys though, I'm sure they're still quite pleezed with the quality of their sole ep… perfectionists, hmph). From what I read, the bassist's sister joined the band and although there is only one song on here that has her singing on it and it has quite a nice little melody, and like the varying fidelity, really helps break up the album from sound too similar, it's almost a shame that more of her material isn't on here (but hey, maybe she only wrote only great song, and in that case, one great is better than a bunch of duds).
Although I initially thought this might have been a waste of $9, I have really grown to like this little release a lot, and it's only taken a few listens to do the trick. If you are familiar with those first two
Wilco
albums,
Log
,
Bill Fox
's
Shelter From The Smoke
and maybe
Grateful Dead
's
Terrapin Station
you might like dig on the Regular Guys, because some of the stuff on here is reminiscent to these ears. Songs such as "Let's Dance," "Love and Wrong," "Leave," "I Don't Wanna See You Tonight," "Person to Avoid," and the live version of "I Forgot the Flowers," are going to inevitably make appearances on some future mix tapes, and those are only the songs that motivated me by "the hook" to go over and have a look at the track list. I don't see myself frantically buying all of the stuff from Hyped to Death's
Teenline
series (like I did with their other three series:
Messthetics
,
Homework
, and
Hyped to Death
), but this one has really hit the spot for the time being, and makes me wonder if power-pop does have something to offer me after all? Maybe…
Monday, August 28, 2006
1.07|
Although I moved into my new place up in Providence about a little less than a month ago, I am still in Columbus for another two weeks. It's a little humiliating having to move back in with your parents after all of this time, but hey… it's only temporary. This past year has been a great and really important year for me, and what better way than to sum it up with a string of great shows during my finals weeks in Ohio. When I found out that
84 Nash
we're playing their final show at this year's
Slum-B-Q III
, I felt a bit privileged to still be in town to see off one of my favorite bands.
84 Nash
,
Times New Viking
,
Necropolis
,
Dirty Johnny & The Makebelieves
,
Church of The Red Museum
,
Ron House
,
Guinea Worms
,
Sarah Asher
,
Jeff Fernengel
,
The Lindsay
,
Kyle Sowash
,
Two Cow Garage
Slum-B-Q III at Little Brother's (Columbus, Ohio)
August 26th, 2006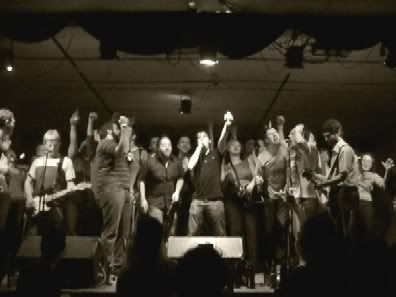 The two previous Slum-B-Q's we're a blast; packed with an always-interesting blend of regional, local and national acts, with the smell of pulled pork sandwiches and delicious homemade macaroni and cheese in the air.
New Dark Ages
-honcho
Bobby Miller
really delivered this year as well, although on paper it looked as if it might, at times, be a little underwhelming. So far from the truth; in fact, the only thing I was a bit disappointed with was that I spent too long talking
Guided By Voices
over some
Sparks
with
Night of Pleasure
's
Jim Cowman
over at
CDR
before the show that I missed the entire
Two Cow Garage
set. I did, however make it just in time to catch almost the entire set by
The Lindsay
, who were just on fire and playing in front of a crowd which was already pretty sizeable… even at 7:45 pm (probably thanks to Two Cow's kick-off slot). Earlier that day, I heard some of The Lindsay album (to be released on
Ron
from The
Carabar
's new label,
Man Up Music
) over at CDR and was just blown away by it, so this impressive Lindsay set really just hit the spot. I believe that the
Guinea Worms
we're up next (this is where the timeline starts to get a little fuzzy). Everybody has come to expect a lot from these guys over the past year, and after a string of performances that have been nothing short of transcendent, I can honestly say that this has been the best performance I have ever seen come out of these guys. Their set-list was impeccable, propelling their dirges to the point of
Fall
-like hypnotic repetition, but cutting away to the next song just short of each song's breaking point, yeah.
Sarah Asher
, a local "songstress" (don't worry, that made me cringe too) who has gained quite a following over the past year, and her band were the first to perform on the obligatory Slum-B-Q side-stage, where they had no technical problems or microphone feedback here), and seemed to be far more comfortable with the DIY intimacy of the side-stage and you could really tell by the music. Lush, weird but pretty, she's doing well at pushing herself away from the obvious
Cat Power
and
Scout Niblett
influence and into her own interesting territory. Saturday was the first time that I've ever caught a set by another band that has really acquired a big fan base around town over the past year,
Church of The Red Museum
. They reminded me of the
Black Heart Procession
,
Ugly Casanova
, and
Nick Cave and The Bad Seeds
, but their material seemed to be really stylized, a little too much for me to get into. There's a "fucked-up" element in all of the aforementioned bands (Heroin... an endearingly irritated voice... Heroin, a great voice and
Blixa Bargeld
), but these guys lack that, and seem to be a little too professional for their own good, but entertaining as a live band, nevertheless.
Ron House
kicked off his side-stage set with the
Great Plains
classic "Hamburger Boy," and although a massive two-beer spill at his feet proved to be a bit of a technical difficulty, he trudged on with early classic "Book Taped to My Forehead," and the
Ego Summit
stunner "Ego's Bridge," which I was very excited about, especially since I was pretty drunk at this point. Athens, Ohio's
Dirty Johnny and The Makebelieves
were everything you've come to expect from
The Garage Rock Mecca of the Hocking Hills
; like their brethren
Drop Dead Sons
and
We March
, they were wild and furious... kind of like a cross between
MC5
and
Judas Priest
, they were just phenomenal and really revived the party atmosphere at Little Brother's following some dark sets by the Guinea Worms, Sarah Asher, Ron House, and Church of The Red Museum. I bought their six-song ep from two-years ago immediately after their set, but I don't think it even touches the power that they got onstage. If you have a chance to see these guys,
do it
! I think that
Necropolis
really felt the pressure, having to follow up the Makebelieves, but they nailed it; drunk enough to not appear nervous, but nervous enough to rip through their set with a fiery fervor.
Times New Viking
kept the momentum going with some offerings from their neo-classic
Dig Yourself
and enough new ones from the upcoming mini-album on
Siltbreeze
to make you wanna shit'cha pants over. I'm just about to start talking about 84 Nash, but then I would be forgetting about the last two side-stagers,
Jeff Fernengel
, local pizza celebrity and frontman of
Tree of Snakes
, and
Kyle Sowash
of…
The Kyle Sowashes
! I missed their sets! The reason: well, the crowd was pretty wild at this point, so when I was hanging out by the main stage, I couldn't hear anything coming from the side-stage and therefore, and regrettably, missed their sets. I really wanted to see Sowash, because he gave me a copy of The Kyle Sowashes album,
What's Important (And What's Not)
, on Friday night and I really liked it a lot.
and now for the topping...
84 Nash
were, in my opinion, one of the most important bands to come out of Columbus since
TJSA
/
Turks
/
V3
/
Gaunt
. They used to play down at Bernie's almost every other week, and rocked as if the place was packed, but it never was back then. With two classics (yes,
classics
) released on
Bob Pollard
's underappreciated
Rockathon
label, the group took their sweet-ass time recording and re-recording their third and ultimately final album appropriately titled
A Secret Reward
. Through their anthemic songwriting, a trail of imaginative recordings, and rare but absolutely electric live shows, 84 Nash rose to become legendary around these bouts, and you can hear traces of their influence in the burgeoning scene that now defines Columbus;
Times New Viking
,
Night of Pleasure
,
The Lindsay
,
The Squares!
,
Tree of Snakes
,
El Jesus de Magico
,
Greenlawn Abbey
, and
Psychedelic Horseshit
, to name a few (of the many). The last time we were treated to an 84 Nash show was a year ago, when they opened up for their old Dayton friend Dave Doughman's
Swearing at Motorists
. It seemed as if the had already played their last show, so when this finale was announced a month or two ago, it seemed like less of a farewell and more of a homecoming. The spirits were high, and they were as just as impressive in their final show as they were the first time I saw them, some seven years ago. I spent most of the set spilling beers while dancing like a mad fool among mad fools, but I remember some distinct songs: "Mergatroid in Megacity," "The Night They Drank Vandalia," "Cinnamon Block," "Everybody's Gotta Skull," "Bright Orange Hearts," "Marcher's Fallout," "Sandful of Hand," "Roadtrip to Columbus," "Be Perfect," "Mathematical Park," "Tired of You" …satisfied? You bet!
The Kings of Yeah
closer "Electric Light Parade" closed out the wild star-studded encore (see the picture), before segueing into Fleetwood Mac's "The Chain."
May the chain keep us together…
very appropriate, considering that I met some of my best friends through a mutual love of all things
84 Nash
. Even on a bit of a grander scale, 84 Nash was the chain; linking the mid-90's explosion of Ohio-mania that had all but simmered out by the time I ended up on campus in 1999, and the new golden age that we are lucky enough to be basking in right now. I was lucky to be involved in that little slice of local history on Saturday, but maybe we all might be lucky enough to be treated to a posthumous release, from the wealth of unreleased classics that were recorded over the years. If only we can be so lucky.
Sunday, August 27, 2006
1.06|
Ow what a weekend! You may have already read that the Vertical Phil has joined the ranks, but what you don't already know is that the Jared Phillips, the Two-Eared Man himself, has also joined the Marble Stature Blog teeeam; MF-er's possibly got one of the coolest record and tape collections around, so this should be interesting. Yes, a very exciting weekend, indeed.

Friday, August 25, 2006
1.05|
Yes, I am very pleased that one of the best guys I've ever known,
Vertical Phil
, has conceded to join
Marble Stature Blog
. We had a lot of fun writing reviews back in the
Vertical Slum
, so it's excited to be writing again with my old colleague… oh and thanks for revealing all of my guilty pleasures (
Matthew Modine
,
Adam Sandler
, that video clip of
Kelsey Grammer
falling off of the stage,
Bowfinger
) out and onto the table with entry
1.04
, reminding us all that whenever you are at a point in your life that you think that you can start from scratch and somehow renew your identity, there will always be that old friend that reminds us that we never truly grow up. Ha! It's good to have you back!
I was in New York a few months ago and spent a day walking around the Village looking for some "finds," although I was on a pretty tight budget for the trip. I was a little disappointed with the first couple record stores we went to; real "we know what we got" stores, but the long trek down to
Other Music
was well worth it.
15-60-75
Jimmy Bell's Still In Town
(Hearpen, 2003)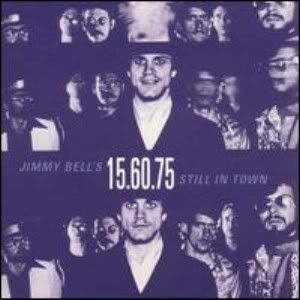 If you haven't heard this album you're really doing yourself an injustice. Originally released back in 1976 on
Water Brothers
(not a misspelling), and then digitalized onto cd (in DIY fashion) by
Reedurban
records, in order to celebrate the Numbers Band's 30th anniversary in 2000, only to be given a proper cd release three years later by
Hearpen
, a label run by longtime friend and fan
David Thomas
. I was given a copy of the Reedurban release a couple of years ago by Rubber City music fan and Columbus' own gin-boy
Turco Gura
, but I couldn't get a feel for it from the first minute or so, so it just sat in my computer. I'm glad I picked it up at Other Music that day, because the Hearpen reissue benefits from better sound and some of the most eloquent liner-notes I've ever read. Although, he's not credited for writing them, these must be the work of Thomas, who's writing is quite unmistakable for anyone who is well versed with his work as frontman of Cleveland's greatest non-athletic institution,
Pere Ubu
. The liners give a succinct history of the Numbers Band; unveiling the many interesting and progressive concepts that time had buried beneath the noise. I was considering typing them out for you, but the magic would be lost, so you're going to need to just pick it up, put it on, and snap into the Numbers' hypnotism.
I was talking to
Mike Rep
a few weeks after I bought this reissue and he told me it is his
all-time favorite Ohio album
; which is interesting because it doesn't really sound much like anything that's ever come out of Ohio. They're armed with dueling saxophonists (one of them horns is none other than
Chrissie Hynde
's brother
Terry
) that weave
Stax
-type R&B and avant-garde
Impulse
screeching into a magnetic accord.
Robert Kidney
is the singer/songwriter of the band, his voice is cooler than
Lou Reed
's, and has a certain cadence that just adds another layer of percussiveness to the
David Robinson
's tight drum set and brother
Jack
's rolling hand drumming. The twin guitars are articulate and hold the true Blues rhythms, acting as a foil to the Saxophonists freedom. The antithesis of
Led Zeppelin
's
The Song Remains the Same
, each minute brings a new thrill, a new peak, a new insight like some wicked crystal ball foretelling the past, present and future of the Blues in one psychedelic vision. Yeah... wow.
1.04|
Fits of Inception, Bouts of Depression...
Hi All!
My dearest friend and biggest Michael Stanley Band fan has invited me, verticalphil, to contribute to his newest web-creation... Marble Stature. As I will soon be returning to my blogging duties on
newdarkages.net
I could think of no better inspiration than to also help seanzilla spread his undying appreciation for Kelsey Grammer, movies starring Matthew Modine, and of course- Rock and Roll- on a weekly, bi weekly,and inter....errr...mediately basis on this forum. As always, my wit will reflect both my inner toil and outward disdain for all things Adam Sandler.
Stay Tuned.
verticalphil
Monday, August 21, 2006
1.03|
The summer's (almost) gone, and I waited too long to find that great summer-feeling album. I bought a couple earlier this year that I swore would make my summer right (
Love Is All
Nine Times That Same Song
,
Mors Ontologica
Dead and/or Famous
,
The Keane Brothers
Blues and Boogie Shoes
, to name a few early contenders), but for one reason or another have had to rely on some old summer favorites to get through one of the most least favorite summers to date. There's something to be said about a bright, loud, fast, blast of fun that captures the eternal youthfulness of the season, and all of the adolescent pitfalls that we once thought were fall beyond us. When I was going to work a few days ago, I noticed a smashed eggshell and spilled yolk on the driveway that was obviously a failed attempt at egging my car. I remember egging a car or two when I was younger, so I can relate, but I was pretty annoyed about the whole thing, and those kids didn't even succeed. But hey, another summer has gone by and I finally found the appropriate album for this, somewhat stressful and disappointing, summer of 2006.
Gil Mantera's Party Dream
Bloodsongs
(Audio Eagle/Fat Possum, 2006)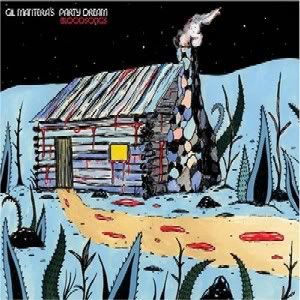 I remember hearing about the Party Dream when I was a sophomore back at Ohio State, six years ago (from what I can remember). Some friends caught one of their shows and were trying to explain their whole shtick to me. It didn't really seem to interest me that much, but a few months later I decided to see what all of the excitement was all about, and really flipped for it. These guys, er brothers
Gil Mantera
and
Ultimate Donny
(real life step-brothers, I hear), were just two normal guys setting up their equipment, and then they came out in costume and they transformed themselves into these flamboyant characters who did high kicks and interpretive dance in between choruses and guitar solos; with each song an article of retro-wear clothing would be peeled off of them by their followers up front. Five songs into their set they were down to their fluorescent bikini underwear, which they really had to fight the crowd from pulling off and exposing them completely to the rest of the bar. At one point a girl jumped onstage wearing a bathing suit and a fur coat peeled back Gil Mantera's bikini and started drinking a beer that her was pouring down his butt crack and into her mouth. I really had never seen anything like this dance-pop circus before, but the thing that really got me was that their music had some great hooks, despite it being campy, self aware and over-the-top in irony.
A few years ago when their debut cd,
Once Triangular
, was released I picked up a copy at
Used Kids
just to hear what a Party Dream album would sound like (actually, my old roommate had their
Best Friends
cdr which he played for me before I had seen them and I didn't really like it) but I was really impressed by
Once Triangular
, and still am to this day. The album was genius in the way that it felt like a live album, due to the live banter and skits that appear in between every couple of songs; those live bits were just essential to the album's flow, which started off as campy and ironic, and eventually revealed a pretty side to the music, especially on the album's apex, "Don't Go." After the album was released the Party Dream toured for a while, but then they just kind of vanished from the Columbus scene. I just kind of figured after a while that they'd kind of given up on the Dream, content with releasing an album that successfully summarized the group's lifespan. And then from nowhere, the always informative "Ear of Cleveland",
Vertical Phil
, informed me of a rumor that they signed to
Fat Possum
(by-way-of
the Black Keys'
, fellow Northeastern Ohioians, off-shoot label
Audio Eagle
), and sure enough, there they were on the Fat Possum website. I was excited for them, but then I started dreading what they would come up with as a follow-up to
Once Triangular
, an album that picked the best of what they had been playing out on for several years. I was prepared for disappointment from the get-go, and that is one of the reasons as to why it took me so long to pick this up. I went with my mom to a Border's around town, and she offered to buy me a cd if there was something that I wanted; couldn't turn that one down, although Border's tend not to stock my kind of music, I figured they'd have something that I could add to the racks. I saw
Bloodsongs
and just went with it (beating out
Mott the Hoople
Mott
, and a replacement copy of that first
Stooges
album that some jerk stole from me five years ago).
I was initially pretty disappointed with
Bloodsongs
, and I think it was mostly due to the fact that the album starts off a little slow, and there were no big hooks or big laughs, for that matter, to keep my attention, but still far from terrible. I gave it a couple of listens, at work and in the car, and finally started to get a feel for a couple of songs here and there. The final track (not the hidden track, which, by the way is the great "Chalklit Phye II" from
Once Triangular
) "Emotion Road," is the one that I really grabbed on to; it took me a few days to stray from that one, after I heard it… if this ain't the hit I don't know what is. It's just a spectacular epic pop song and far more sophisticated than you might initially expect from a group who have been criticized for not taking their music seriously enough. Gil Mantera's Party Dream really do make you wonder if all synth/dance-pop is supposed to be boring live (
Magnetic Fields
(yawn),
Unicorns
,
Postal Service
hey, does Ben Gibbard's fat ass even dare to venture out on stage?
,
Erasure
... you get the picture)? It would be really hard to remove my memories of seeing these guys live while listening to the music, but it does make you wonder what people, who have never seen or heard about their stage personas, will think of this album? With the live clips on
Once Triangular
, you could still get a taste of the g-string, but what about the evil twin? I think that the material on
Bloodsongs
is entirely capable of holding up on its own, but Ultimate Donny's over-the-top boy band vocalizations and goofy, clichéd, nonsensical ponderings would most-likely be lost in the translation. Pick your Wahlberg-
Bloodsongs
is the summer winner, better late than never; it's one of those albums that i'll be able to put on a few years from now and will blur out all of the shit that I've had to deal with over the last few months, into a hazily nostalgic after hours porch party. I suggest that you pick it up sooner than later, anways, September has always counted as the best part of summer in my opinion.
Thursday, August 10, 2006
1.02|
The Tabula Rasa: if you read back to entry
1.01
you will know that I used to be a writer/critic (albeit flair, for the lowest level), and that recently several factors have persuaded me to jump back into the hot-seat. So there's a certain conflict that I am facing, because the reviews I wrote for the first issue of 'The Slum' we're quite terrible compared to the quality (is that even the right word?) of the last issue. So how do you begin? I thought about writing about something current and local, but it would lack a certain context that, unless you were an avid reader of the
Vertical Slum
or a good friend of mine, you would not know (1) where I'm coming from, insofar as tastes and knowledge and (2) where I intend to go. Of course, I expect very few people to actually read this any time soon; there still is a level of quality that you want to establish from the commencement. I decided to start off with something close enough to home, yet far enough in time to show some sort of where I am coming from…
Peter Laughner & Friends
Take the Guitar Player For a Ride
(Tim Kerr, 1994)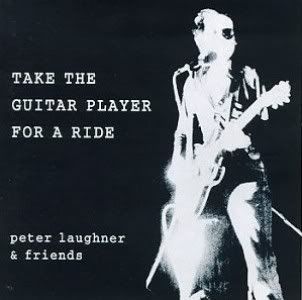 I think there's certain legitimacy to the claim that there was a renewed interest in the work of Peter Laughner over, say, the last 7 or 8 years due to
Wilco
's break-through double album
Being There
. The haunting opener "Misunderstood," still a staple of their live set, quotes a few lines from Laughner's "Amphetamine." Although none of us really knew the extent of the quote, because it's safe to say that the majority of Wilco fans at the time did not to stray very far from the alt-country/roots-rock that was "it" for a few years at the end of the 90's. Of course
Yankee Hotel Foxtrot
really changed that, but who cares!? Luckily, many people (myself included) did some research and found out that the guy was at one time a member of
Pere Ubu
. But if you listen to
Terminal Tower
, it's fairly hard to decipher Laughner's genius apart from, well, the genius of every member of the group (c'mon, it's Pere Ubu we're talking about here). I borrowed the
Datapanik
box from an old roommate of mine and remember hearing "Amphetamine" for the first time; it was so different from Pere Ubu, and I think that's why I grabbed onto it so quickly. I didn't think that it sounded much like "Misunderstood" at all. For a long time I looked for more
Rocket From The Tombs
stuff but never had any luck. I even found out, while visiting the Cleveland's Westside with an ex-girlfriend, that Peter Laughner was at one time married to her aunt, Cleveland historian/poet/writer
Charlotte Pressler
. My interest in Laughner/RFTT died down a bit after I heard in first person what a complete jerk my ex-girlfriend's parents thought he was (they even likened him to Howard Stern- tall, arrogant, obnoxious, etc). Thankfully in 2002,
Smog Veil
released the almighty
The Day the Earth Met the… Rocket From the Tombs
. I finally understood what the big fuss about Laughner was all about; his guitar is a squealing, shrieking wall of solos, and his songs "Seventeen," the snarling "Ain't it Fun," bratty "Life Stinks," and the original version of "Final Solution" were frustrated teenage-hedonist anthems. The image of a 70's rock' n roll hero (ala
Rock 'n Roll Animal
or
Ziggy Stardust
) seemed to fuse perfectly with the description of Laughner that the ex's parents gave me- hell, the version of "Amphetamine" on this puppy could blow out The Who in all of their
Rock 'n Roll Circus
prime (but honestly who gives a shit about
The Who
anyhow?). I still listen to that Smog Veil album regularly, and of course, I've known about
Take the Guitar Player For a Ride
for some time now, but being the highly sought after collectible that it is, I could never find it for a "reasonable" price, so I just kind of gave up; content with the Smog Veil retrospective. But a few months ago, one of these suckers popped up on eBay and I finally just decided to grab a copy while I still had the money.
I put on the cd and started leafing through the booklet and was immediately struck by this picture of a smiling Pressler seemingly in mid conversation, a forward-looking Laughner with a knowing grin, and "an unknown admirer," eyes shut and leaning the back of his head on Laughner's shoulder, on the first page of the booklet; the exquisite "Baudelaire" is on, sounding like something off of
Blood on the Tracks
.
Clinton Heylin
, author of
From The Velvets to The Voidoids
, titled the liners "Searching for Peter Laughner" and likened Laughner to
Robert Johnson
. Sure the two had their share of personal demons, but don't we all? Those liner notes are 13 years old, and were written long before Wilco, and
Guns 'n Roses
did their part to get the guy's name out; these were written 9 years before the Smog Veil retrospective saw the light of day, so in order to find out anything about Laughner, Heylin had to go straight to the source; interviewing past members of Rocket From the Tombs, Pere Ubu, and his ex-wife Charlotte. It makes sense that Heylin himself compiled the album from a wealth of home demo tapes and concert footage that Laughner left behind without the intent of seeing them released, because the album has a nice narrative quality to it's compilation, ending with a cover of Robert Johnson's "Me & The Devil Blues," which was written the night before Laugher's death. The material on "Take the Guitar Player for a Ride" straddles the whole spectrum of critic rock, covering, in addition to Robert Johnson,
Eno
's "Baby's on Fire," and
Richard Thompson
's "Calvary Cross," the latter which is given a exquisite violin/guitar treatment by Laughner's cover-heavy group Friction and even surpasses the original. Really. "Dear Richard," an "answer to an unwritten suicide note" is a raging rocker with a great chorus, but the majority of the material here is more reminiscent of
Dylan
or even early
Springsteen
stuff; just an acoustic and a voice captured on a tape player after bars close, after the bands get paid, after the point of emotional and physical exhaustion. What you hear on this album are songs that are straight soul, not a performance. There's a cohesive sloppiness that ranges from the stuttered chord changes of "Cinderella Backstreet" to the drunken ramblings of "Only Love Can Break Your Heart," that don't matter in the long run, because they are devastatingly descriptive of a man who's number was just about up.
If you think there was more to Peter Laughner than the bigger-than-life rock star face that he put on, you're right; this is the most heartbreaking look into a side of a man who tried so hard to conceal the pain of his past and the ultimate hopelessness within his own life. This sort of thing would actually be kind of hard to listen to if the intentions that are conveyed in his songwriting weren't so poetically universal and personal at the same time. This is one collectible that is worth every cent, in fact it's scarcity is more than appropriate.
Wednesday, August 09, 2006
1.01|
Per Ardua: Marble Stature

Marble Stature Blog
c/o Sean Wright
108 Ives Street, Apt #3R
Providence, RI 02906

archives
August 2006 September 2006 October 2006 November 2006 December 2006 January 2007 February 2007 March 2007 May 2007 June 2007 July 2007 December 2007 April 2008
of similar interest:
marble stature archives
art for spastics
blastitude
crud crud
detailed twang
electric pure land
population: doug
siltblog
static party
terminal boredom
world of wümme
the z gun