Although I moved into my new place up in Providence about a little less than a month ago, I am still in Columbus for another two weeks. It's a little humiliating having to move back in with your parents after all of this time, but hey… it's only temporary. This past year has been a great and really important year for me, and what better way than to sum it up with a string of great shows during my finals weeks in Ohio. When I found out that
84 Nash
we're playing their final show at this year's
Slum-B-Q III
, I felt a bit privileged to still be in town to see off one of my favorite bands.
84 Nash
,
Times New Viking
,
Necropolis
,
Dirty Johnny & The Makebelieves
,
Church of The Red Museum
,
Ron House
,
Guinea Worms
,
Sarah Asher
,
Jeff Fernengel
,
The Lindsay
,
Kyle Sowash
,
Two Cow Garage
Slum-B-Q III at Little Brother's (Columbus, Ohio)
August 26th, 2006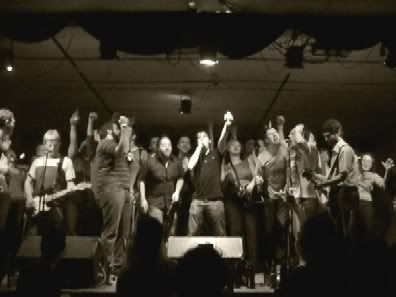 The two previous Slum-B-Q's we're a blast; packed with an always-interesting blend of regional, local and national acts, with the smell of pulled pork sandwiches and delicious homemade macaroni and cheese in the air.
New Dark Ages
-honcho
Bobby Miller
really delivered this year as well, although on paper it looked as if it might, at times, be a little underwhelming. So far from the truth; in fact, the only thing I was a bit disappointed with was that I spent too long talking
Guided By Voices
over some
Sparks
with
Night of Pleasure
's
Jim Cowman
over at
CDR
before the show that I missed the entire
Two Cow Garage
set. I did, however make it just in time to catch almost the entire set by
The Lindsay
, who were just on fire and playing in front of a crowd which was already pretty sizeable… even at 7:45 pm (probably thanks to Two Cow's kick-off slot). Earlier that day, I heard some of The Lindsay album (to be released on
Ron
from The
Carabar
's new label,
Man Up Music
) over at CDR and was just blown away by it, so this impressive Lindsay set really just hit the spot. I believe that the
Guinea Worms
we're up next (this is where the timeline starts to get a little fuzzy). Everybody has come to expect a lot from these guys over the past year, and after a string of performances that have been nothing short of transcendent, I can honestly say that this has been the best performance I have ever seen come out of these guys. Their set-list was impeccable, propelling their dirges to the point of
Fall
-like hypnotic repetition, but cutting away to the next song just short of each song's breaking point, yeah.
Sarah Asher
, a local "songstress" (don't worry, that made me cringe too) who has gained quite a following over the past year, and her band were the first to perform on the obligatory Slum-B-Q side-stage, where they had no technical problems or microphone feedback here), and seemed to be far more comfortable with the DIY intimacy of the side-stage and you could really tell by the music. Lush, weird but pretty, she's doing well at pushing herself away from the obvious
Cat Power
and
Scout Niblett
influence and into her own interesting territory. Saturday was the first time that I've ever caught a set by another band that has really acquired a big fan base around town over the past year,
Church of The Red Museum
. They reminded me of the
Black Heart Procession
,
Ugly Casanova
, and
Nick Cave and The Bad Seeds
, but their material seemed to be really stylized, a little too much for me to get into. There's a "fucked-up" element in all of the aforementioned bands (Heroin... an endearingly irritated voice... Heroin, a great voice and
Blixa Bargeld
), but these guys lack that, and seem to be a little too professional for their own good, but entertaining as a live band, nevertheless.
Ron House
kicked off his side-stage set with the
Great Plains
classic "Hamburger Boy," and although a massive two-beer spill at his feet proved to be a bit of a technical difficulty, he trudged on with early classic "Book Taped to My Forehead," and the
Ego Summit
stunner "Ego's Bridge," which I was very excited about, especially since I was pretty drunk at this point. Athens, Ohio's
Dirty Johnny and The Makebelieves
were everything you've come to expect from
The Garage Rock Mecca of the Hocking Hills
; like their brethren
Drop Dead Sons
and
We March
, they were wild and furious... kind of like a cross between
MC5
and
Judas Priest
, they were just phenomenal and really revived the party atmosphere at Little Brother's following some dark sets by the Guinea Worms, Sarah Asher, Ron House, and Church of The Red Museum. I bought their six-song ep from two-years ago immediately after their set, but I don't think it even touches the power that they got onstage. If you have a chance to see these guys,
do it
! I think that
Necropolis
really felt the pressure, having to follow up the Makebelieves, but they nailed it; drunk enough to not appear nervous, but nervous enough to rip through their set with a fiery fervor.
Times New Viking
kept the momentum going with some offerings from their neo-classic
Dig Yourself
and enough new ones from the upcoming mini-album on
Siltbreeze
to make you wanna shit'cha pants over. I'm just about to start talking about 84 Nash, but then I would be forgetting about the last two side-stagers,
Jeff Fernengel
, local pizza celebrity and frontman of
Tree of Snakes
, and
Kyle Sowash
of…
The Kyle Sowashes
! I missed their sets! The reason: well, the crowd was pretty wild at this point, so when I was hanging out by the main stage, I couldn't hear anything coming from the side-stage and therefore, and regrettably, missed their sets. I really wanted to see Sowash, because he gave me a copy of The Kyle Sowashes album,
What's Important (And What's Not)
, on Friday night and I really liked it a lot.
and now for the topping...
84 Nash
were, in my opinion, one of the most important bands to come out of Columbus since
TJSA
/
Turks
/
V3
/
Gaunt
. They used to play down at Bernie's almost every other week, and rocked as if the place was packed, but it never was back then. With two classics (yes,
classics
) released on
Bob Pollard
's underappreciated
Rockathon
label, the group took their sweet-ass time recording and re-recording their third and ultimately final album appropriately titled
A Secret Reward
. Through their anthemic songwriting, a trail of imaginative recordings, and rare but absolutely electric live shows, 84 Nash rose to become legendary around these bouts, and you can hear traces of their influence in the burgeoning scene that now defines Columbus;
Times New Viking
,
Night of Pleasure
,
The Lindsay
,
The Squares!
,
Tree of Snakes
,
El Jesus de Magico
,
Greenlawn Abbey
, and
Psychedelic Horseshit
, to name a few (of the many). The last time we were treated to an 84 Nash show was a year ago, when they opened up for their old Dayton friend Dave Doughman's
Swearing at Motorists
. It seemed as if the had already played their last show, so when this finale was announced a month or two ago, it seemed like less of a farewell and more of a homecoming. The spirits were high, and they were as just as impressive in their final show as they were the first time I saw them, some seven years ago. I spent most of the set spilling beers while dancing like a mad fool among mad fools, but I remember some distinct songs: "Mergatroid in Megacity," "The Night They Drank Vandalia," "Cinnamon Block," "Everybody's Gotta Skull," "Bright Orange Hearts," "Marcher's Fallout," "Sandful of Hand," "Roadtrip to Columbus," "Be Perfect," "Mathematical Park," "Tired of You" …satisfied? You bet!
The Kings of Yeah
closer "Electric Light Parade" closed out the wild star-studded encore (see the picture), before segueing into Fleetwood Mac's "The Chain."
May the chain keep us together…
very appropriate, considering that I met some of my best friends through a mutual love of all things
84 Nash
. Even on a bit of a grander scale, 84 Nash was the chain; linking the mid-90's explosion of Ohio-mania that had all but simmered out by the time I ended up on campus in 1999, and the new golden age that we are lucky enough to be basking in right now. I was lucky to be involved in that little slice of local history on Saturday, but maybe we all might be lucky enough to be treated to a posthumous release, from the wealth of unreleased classics that were recorded over the years. If only we can be so lucky.