Ya hear that the great
Jay Hinman
has called it a day over at
Agony Shorthand
? Yeah, it kind of took me by surprise as well. Agony Shorthand was one of the best; a great source for digging up great bands and albums from the past and present, and the writing was fantastic. Hinman's serious devotion to quality writing day after day on Agony Shorthand has pushed blogging to a new level of credibility; leaving traditional music websites crying in the dust. If you were not a reader of the site, please follow the link
here
and peruse through his archives, you'll find three and a half years of album and single reviews, fanzine reviews, "overrated" call-outs, interviews and more. I'm just glad that he's going to keep the site up so that we can all enjoy Agony Shorthand's great legacy. Ok, on a bit of a brighter note,
IT'S MY BIRTHDAY
… and it looks like
Sub Pop
doesn't suck no more.
Dead Moon
Echoes of the Past
(Sub Pop, 2006)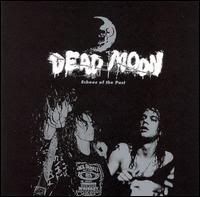 I don't know where this one came from; releasing a two-disc "Best-Of" compilation of the Oregon-based Dead Moon. I was completely in the dark about these guys until a friend from Boston told me about them two years ago. He hadn't heard them either, but said that he heard they were great, so he wondered if I had any of their shit. I didn't, and I completely forgot about Dead Moon until I saw
Mike Rep
and
Mac Sutherland
from
Siltbreeze
sporting matching black Dead Moon tees at the
Thomas Jefferson Slave Apartments
reunion show in Columbus this past summer. When I saw this compilation hit the shelves this week, I couldn't hold out any longer. Hey, this thing is great! I went home and did some digging on Dead Moon, and found out that the singer
Fred Cole
had been in a garage band that had a track on
Rhino
's
Nuggets
(the first one… cheese!). He then formed Dead Moon with his wife
Toody
, who plays the bass, and
Andre Loomis
on drums, in the late 1980's, some twenty years after
the Lollipop Shoppe
's "You Must Be a Witch." It's an interesting back story, so read up on it over on
AllMusic
or something, because my time is too valuable to waste on retyping.
Back to the good shit, and there's plenty of it…
Echoes of the Past
was compiled by Fred Cole himself, and despite being deficient in the liner notes, they were nice enough to include a discography, ie guidebook for the soon to be obsessive. I count six LP's and a ton of singles and compilation tracks, almost all from the Dead Moon's own
Tombstone
(with the rare exception of a Sub Pop and a
SFTRI
), but my eyes are what they used to be, so don't count me on it. I'm going to end up owning all of this shit sooner or later, because this compilation is fantastic; full of rock 'n roll rituals and pitfalls. You can hear a little
MC5
here, a little
Love
there, and a little
Roky
, but Dead Moon ain't imitators. There is something so primal about everything on here despite covering a great span of years (1988-2004), the production, or lack thereof, just hits the nail on the head. Gritty and warm, yet so delicately mixed so that nothing gets lost or shortchanged, and they are such a great rock band that this formula is just as successful on the slower numbers as on the rockers. The thing I like the most about these guys, er… I should say the thing that surprises me the most about these guys are that they are actually quite a versatile band; their material isn't really based in the Blues, or in Punk, or in Surf, Noise, or Hardcore, they are a band that play songs from the soul, and you can't ever fake that. It's completely unmistakable from the start of
Echoes of the Past
. I really can't believe that Sub Pop went all-out on this, and even expanded it across two-discs (49 songs!), but I'm really glad that they did because this is sure to turn on a hell of a lot of people to the great Dead Moon, who are somewhat of an untainted, uninhibited living treasure. Oh yeah, and they probably should've called the thing
Echoes of the Future
.