Last week I wrote about one of the most beloved of the bands that ever came out of New Zealand, the
Verlaines
. I went to
Used Kids
on Saturday morning right when it opened at 10, to avoid the Campus Buckeyes madness and mayhem, and like I was saying in the previous post, came upon a cd by a band who's name I've heard a few times while waist-deep in Kiwi waters a few years back.
Cyclops
Goat Volume
(IMD, 1994)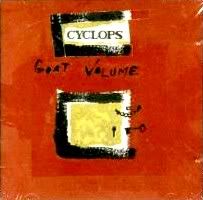 I first heard about Cyclops from
Drag City
's
I Heard the Devil Calling My Name
seven-inch, on which they make an appearance. Now, I've never heard the aforementioned seven-inch, but I did some digging online and this
Goat Volume
compilation cd came up via
Peter Jefferies
entry on
Trouser Press
. It turns out that he was playing drums for Cyclops in their three years of activity, 1991-1994. Yeah, yeah, Jeffries drums for most every band on the
Xpressway
, so nothing new there, but what really got me is that Cyclops featured bassist/singer
Kathy Bull
from the completely overlooked and avoided (probably because of their unfashionable round glasses and long church-lady floral print dresses) mid-80's
Flying Nun
outfit
Look Blue Go Purple
. If you haven't heard any Look Blue Go Purple, do yourself a favor and check them out; they are one of those weird girl-groups who weren't so much
The Slits
as they were a cross between
Young Marble Giants
and
The Monkees
. Now back to Cyclops… I listened to this on the second half of an hour car ride, expecting to take it out after a song or two, because I just figured that it was going to be soaking in Xpressway murk (I did get this in the Avant-Garde section). Jefferies signature double bass-drum pedal wallop is always an immediate attention-grabber, but wait: "is that a melody?" There's Kathy Bull for you. After listening to this thing a couple times through, I finally looked at the liners last night and what I heard turned out to be quite different from the truth. I thought Bull was one of (at least) two female singers, and there was one male singer (not Jefferies- you can tell his frog croak from about a mile away), and at least two guitarists within the wall of harmonious din. I was pretty surprised that there is actually only one guitarist,
Bruce Blucher
, and that Blucher and singer
Andre Richardson
were actually singing the songs that I thought Bull was singing along with. Their combined voices bear an uncanny resemblance to Adam and Beth of
Times New Viking
, especially on "9 Unknown Men," which is a raging punk rave-up bound in a tight albeit simple structure of verse and chorus. It's worth the price admission alone, especially if you are looking for one of those great, "what-the?!!" anthems for a mix-tape. Not the case with most of this lesser known, or in this case almost completely unknown, New Zealand groups,
Goat Volume
is really solid; venturing from dark-folk, melodic punk, spoken word, and filled in the gaps with memorable kiwi-rock (reminiscent of
The Exploding Budgies
,
Look Blue Go Purple
or the
Victor Dimisich Band
). I was wondering why this never came out on Flying Nun, but it kind of makes sense because Flying Nun was putting out garbage by 1994, and these guys seemed to operate as one of those anomaly bands hovering around the Xpressway camp and still making interesting music, like the
3D's
, the
Cakekitchen
or the
Terminals
. Cyclops is easily as good as the best of them, (and "9 Unknown Men" might be
the great lost NZ single
) although they seem to only exist as a minor stop in the path of their well-known drummer. Next time you go out to the record store be sure to cruise the cheap bins for this, because it's one of those albums that you don't see very often at all, and when you do it's either $5 or $50, and everything always sounds better when you're on the winning end.