I spent the day not in class (surprisingly), but rather working a few hours in the afternoon and then spending several hours with a bunch of old cassettes (crudely recorded probably about six or seven years ago) that I stumbled upon towards the bottom of a large cardboard box with busted-out-sides, due to the amount of junk artwork, photos, various post-its and receipts that
Meghan
is making me sort through. For your sake, I hope that these shit cassettes never find their way to another set of ears, but it was kind of nice to writhe in the pain that each terrible song after another, and tape after tape, would bring, because while it ain't good, it's at least honest
ly
terrible.
Axemen
Three Virgins, Three Versions, Three Visions
(Flying Nun, 1986)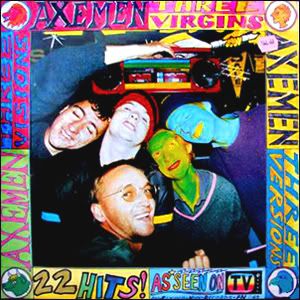 If you hadn't noticed already, the
Lax
-machine,
Siltblog
, has been dropping the word of this group of neglected Kiwis and their ultra-obscure label
Sleek Bott
for the past month and a half. I've had a few people a day ask me if I have any of this Axemen/Sleek Bott shit, which I didn't. I bought the Axemen retrospective thing,
Peter Wang Pud
(still in-print after all of these years, try
here
), a couple of years ago from the $3 bin at
Used Kids
, and while it mysteriously went missing soon after, I was probably too busy listening to
Juvenilia
, or
Goblin Mix
to give two shits. Caught up in all of the Axemen-hype of the past few weeks, I re-bought
Peter Wang Pud
for $5 on eBay two weeks ago and then found this double-LP for $18 last week (thinking that if it sucked I could at least find an eager buyer amidst the hysteria). So where do we stand? While I still hold
Marie and the Atom
and
The D4
to be the two weirdest bands on
Flying Nun
(hey! for two completely different reasons: one's great and one spelled the end, mate), the Axemen make me scratch my head like untrimmed nails and a bad case of psoriasis (for the record: I am
not
saying that psoriasis is funny in any way, shape or form).
Three Virgins...
is the Axemen's sprawling double album Flying Nun debut, but the odd thing about this thing is that, while almost all of the double albums I've heard set themselves up from the get-go to be epic, grandiose artistic statements (the musical equivalent to a Western in
Cinemascope
), the Axemen went about it in the laziest way possible; creating a sprawling, scatterbrained mess of pop music that set the precedent for that roll-call of classic early-90's indie-rock breakthroughs (
Slanted
…
Bee
…
Crooked
…
Alien Lanes
…
Stangers from the Universe
… you're still reading this?!!), and yeah, I can hear some of that
Messthetics
DIY horseplay in the dank ol' air as well. Sometimes the voices are as chirpy as a bird in the closet, sometimes I hear some
Mark E. Smith
-cadenced sing sing in the radar, sometimes some
Nikki Sudden
, but if you are one you registers rather irritating voices as ruggedly charming and charismatic… go on, you devil, and just surrender yourself to the "Rain O'Seeds." How does the end of this old joke go: if you listen to
Three Virgins
for long enough…? Oh yeah, I remember: "I bet you won't be able to stop!" Pretty damn ripe for a reissue... any takers?