The airline lost my luggage, searched my luggage, confiscated my laptop, and ditched me on some pretzels on the connecting flight from Philly, but I made it to Providence safe and sound, followed by my luggage in the early morning hours of Sunday, September 10th. Meghan's friends were in town visiting from Columbus, and they wanted to have a look at Boston while they were up here, so we had ourselves a little train ride on Sunday. I was a bit groggy from traveling, so I wasn't too keen on taking a trip, but you got to bite your lip sometimes. As we were walking around Cambridge, I remembered that there was a
Newbury Comics
(see, I can get away with Newbury Comics because there's enough there to entertain the group, if I would've mentioned the great
Twisted Village
I would probably still be up shit creek) nearby, so I thought I'd see if I could find something interesting.
Pere Ubu
Why I Hate Women
(Smog Veil, 2006)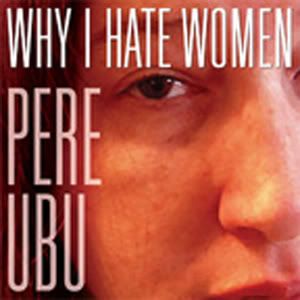 I grabbed this right when I saw it, because I think that the store's employees didn't notice the release date of next week… but maybe they just didn't care. Yeah, so not a whole lot of people probably care about Pere Ubu these days, sure they made more than their fair share of stinkers in the past (you can use your own judgment as to which phase is their worst), but you really can't really say that Pere Ubu ever really abandoned their weird impulses, even at their most accessible (
Cloudland
,
Worlds in Collision
,
Story of my Life
). My brother, who was living in Cleveland at the time, picked up
Ray Gun Suitcase
at a
Half-Price Books
and played it for me in the car and I remember feeling really weird about music for a couple of months afterwards. I haven't heard
RGS
's follow-up
Pennsylvania
or 2002's
St. Arkansas
, so I have been having some trouble finding an appropriate context for
Why I Hate Women
, so bear with me. First of all,
Robert Wheeler
's playing on this album is impeccable; his EML synthesizer boldly sears, scratches, and colors the band's rhythms with a combined sense of claustrophobia and magic that made those first three Ubu alums so groundbreaking; never questioning what Master
Ravenstine
would do? The drums are a prominent instrument in the album's mix, and
Steve Mehlman
does well to provide a stable rock-beat throughout this very weird (you probably could've guessed that one) album, while guitarist
Keith Moline
and bassist
Michelle Temple
take turns pulling out of the middle's murk. Even
Jack
and
Robert Kidney
from the
Numbers Band
(see post
1.05
for a review of their classic
Jimmy Bell's Still in Town
) make appearances on
Why I Hate Women
, but you can't talk much about a Pere Ubu album without talking about the big guy in front,
David Thomas
.
In an
AllMusic
review of
St. Arkansas
,
Robert Doerschuk
convincingly states Thomas' case of being an equal of
Tom Waits
, and this album should do better to reaffirm his somewhat bold thesis. The two possess two of the most distinct voices of all time, but seem to be polar opposites of each other in terms of pitch and tone, but both are haunting and carnival-esque. Thomas' voice takes on a unique tone for each song and his performances on
Why I Hate Women
are as electric as anything he did in the 70's, but without the escapist excitement fueling the Cuyahoga. Here he is tired, frustrated and direct. Even on the charging "Caroleen," which sounds a bit like a song off of
The Breeders
'
Title TK
, if the Breeders would have been helmed by
Black
instead of
Kim
, Thomas is in contrast to the raging band that is backing him; barely able to keep up, never missing a beat, but baring his soul lost in amidst the clouded fury. It's hard to find anything to criticize about this album, because it has a quality about it that is so deliberate and constructed, without ever sounding difficult or laborious. Every time I listen to
Why I Hate Women
, its dense layers reveal a new level of complexity and sophistication which is rarely seen in music these days, and when you do see it, is usually a product of ignorance rather than intelligence. This is probably the best thing that I've heard this year. Thanks Ubu, thanks!