I started writing a review yesterday for what might be
Guided By Voices
' best ten minutes of bar breath,
Fast Japanese Spin Cycle
, but as I was writing it started raining more and more, and the apartment was getting dark so
The Rock*A*Teens
seemed like a better choice. Today is a new day; my
Buckeyes
won (still #1) and it feels great outside, real fall-like. I'm in a good mood and I was glad that I liked this:
Robert Pollard
Normal Happiness
(Merge, 2006)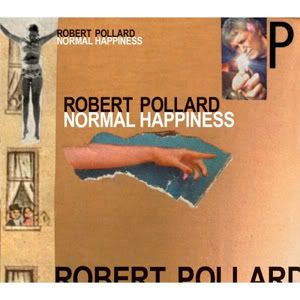 I'm not going to lie, I love Guided By Voices. Thankfully my obsession has died down quite a bit over the past couple of years, but I'd be lying if I said that they were not influential in my music taste; they really opened the sonic gate for me and essentially inspired me to seek out great music, so for that I am eternally thankful. I was kind of afraid to hear
From a Compound Eye
(which was released only seven months ago!), because I thought that it might be more along the lines of a
Fading Captain
"curiosity" and less along the lines of
Not in My Airforce
or
Waved Out
. But I was really surprised and impressed by
From a Compound Eye
and I think that it was good for Pollard to release it via
Merge Records
, because it helped in avoiding comparison to his excellent
Matador
solo albums and established a new era of Pollard's solo career. Pollard even survived his first solo tour, and left many people thinking that his
Ascended Masters
might have been the greatest band that has even backed the old sot. I'm sure the wealth of new material probably had a hand in that (I think even the
Postal Blowfish
seemed to be getting a little tired of hearing the same songs off of
Bee Thousand
and
Alien Lanes
tour after tour). While
From a Compound Eye
was a sprawling double-album of metallic shock and majestic sweep, his latest,
Normal Happiness
, is on the other end of the Wizard's rainbow; rooted in a quick and quirky structure, this is the album Pollard tried to make with
Do the Collapse
. There are very few synthesizers and shake-your-head-in-shame prog on this one, showing that either producer/one-man band
Todd Tobias
has restrained himself in the studio or Pollard himself has rekindled the simple formula that made
Kid Marine
,
Waved Out
, and
Not in My Airforce
so endearing and easy to like. I am really excited to hear these little pop songs on Pollard's trek out to the East Coast in two months, because there are some extraordinary songs on
Normal Happiness
. Two of my favorites have to be "Rhoda Rhoda," with its heavy chug and immediate hook, and "Whispering Whip," which boasts a
Superchunk
of chorus and then is over before you can say… "precision auto."
I think that Pollard pulled out yet another winner with
Normal Happiness
and those who picked up one of the many Fading Captain releases that were released since
From a Compound Eye
's release in February will be relieved that the codger's skip has yet to slip. Go ahead and listen to it for yourselves for free over at
Merge
. I do have to say that this is one of the worst album covers I have ever seen. Why Bob, why? Oh, I guess that there will be a bonus for those of you actually pick up
Normal Happiness
as it comes with a nice little 15 song cd featuring Robert Pollard and the Ascended Masters (
Tommy Keene
,
Jon Wurster
,
Jason Narducy
and
Dave Philips
) live at the U.S. Bank Arena in Cincinnati, from this past June, when they opened for
Pearl Jam
. Yep. Great album... shitty artwork... a great first solo tour... with Pearl Jam... looks like it's two steps up and one step back.