I used to work in a computer lab at Ohio State's School of Greed (pretty punk, huh?) for a couple of years. This one summer I worked there and it was one of the most boring experiences of my life. I ended up spending every paycheck online buying cd's and records, because I was so bored. I was even buying so much stuff that I would get bored with buying new shit, so then I took to reading about music via the internet, and I think that's when I finally got beyond the initial surface of New Zealand's big three:
The Clean
,
The Chills
and the
Verlaines
. It's kind of weird thinking of those three great bands as the three entry points into the epicenter of the cool that was New Zealand throughout the 1980's, because their stuff was actually a lot harder to come by than the still-great but far more obscure or "out-there" stuff from the time. I still challenge you to find The Clean's
Compilation
or
Oddities
, or The Chills
Brave Worlds
or their singles collection
Kaleidoscope World
or anything from the Verlaines with the exception of their last three albums. Luckily each of those groups has an anthology-type release that still is in print (although The Clean
Anthology
is the only one that is really worth your time), but
Heavenly Pop Hits
and
You're Just Too Obscure For Me
are just the tip of the iceberg… put in a little extra effort and you'll end up tracking this stuff down from all over world. And hey, although this is what I consider the "big bopper"; one of those albums you listen to for months on end, it still is able to surprise. Are we past the age when a compilation could be more than the sum of its parts... sucka?
Verlaines
Juvenilia
(Flying Nun, 1993)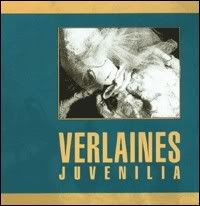 You probably already know the kick off track, "Death & The Maiden." It's the one that has the "Verlaine, Verlaine… etc" chorus (oh yeah… that one!) so I'm not going to waste hours going into how it's the most amazing song, and how Malkmus (true fact) tried to rip it off for "Box Elder."
Graeme Downes
was a genius. He's still alive, so when I say was, it's because he hasn't put anything out since that odd solo album that
Matador
put out a long, long time ago. I haven't checked any facts in a few years, but the last I heard he is a music professor at a College down in New Zealand. Yeah, I think he has a degree or two in music, but don't hold that against him… it's not his fault that music majors tend to be in only the absolute worst bands of all time. I think that has to do mostly with those shitheads studying
Rush
albums with a metronome and diet Dr. Pepper in their chubby hands. Anyway, Downes was one of those clever cats: able to understand the entire evolution of music, and translate his vast knowledge into complex compositions that never feel complicated or overindulgent. In that way he is not unlike
Richard Thompson
,
John Cale
or maybe
Brian Eno
. His voice is yearning (like
Robert Smith
but minus the clownish bits) and he just shreds through his guitar strings strumming like an epileptic in a strobe light on the hits: "Pyromanic," "New Kind of Hero," and my personal favorite "Crisis After Crisis." Hell, they're all hits! Try not to jerk a tear for "Joed Out," it's one of those tortured lover pieces, but devoid of the crap that makes chicks want to ax their serious singer/songwriter (soon to be) ex-boyfriend types.
It's a bit hard to believe that these collected singles, which were released in such close proximity to each other, were followed up by two albums (
Hallelujah All the Way Home
and
Bird Dog
) that are almost of the same high caliber; that's probably because Downes spent something like three years writing these singles before the group even went public. "Haste makes Waste," right? The Verlaines, who were a three-piece mind you, were rounded out by bassist
Jane Dodd
, who would go on to join the great twee-pop group the
Able Tasmans
(who have recently, well… within the last ten years, released an impressive compilation
Songs for the Departure Lounge
, and it's on
Flying Nun
of course), and drummer
Robbie Yeats
, who left the band to form
The Dead C
. The fucking Dead C. Graeme Downes wasn't the only genius working the wheel here; it makes you wonder the size of impact that these early works left on the whole of New Zealand. Remarkable. Hell, I've got to get back to work… I can't pull another "long lunch" this week, track down
Juvenilia
, it's just one of those things you got to hear. Still, the defining moment from perhaps the best band of the 1980's that most people claim to have heard, but most likely never have.