The summer's (almost) gone, and I waited too long to find that great summer-feeling album. I bought a couple earlier this year that I swore would make my summer right (
Love Is All
Nine Times That Same Song
,
Mors Ontologica
Dead and/or Famous
,
The Keane Brothers
Blues and Boogie Shoes
, to name a few early contenders), but for one reason or another have had to rely on some old summer favorites to get through one of the most least favorite summers to date. There's something to be said about a bright, loud, fast, blast of fun that captures the eternal youthfulness of the season, and all of the adolescent pitfalls that we once thought were fall beyond us. When I was going to work a few days ago, I noticed a smashed eggshell and spilled yolk on the driveway that was obviously a failed attempt at egging my car. I remember egging a car or two when I was younger, so I can relate, but I was pretty annoyed about the whole thing, and those kids didn't even succeed. But hey, another summer has gone by and I finally found the appropriate album for this, somewhat stressful and disappointing, summer of 2006.
Gil Mantera's Party Dream
Bloodsongs
(Audio Eagle/Fat Possum, 2006)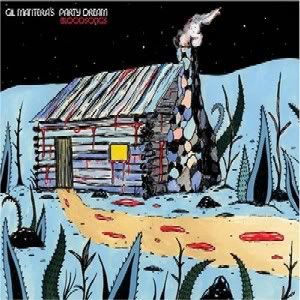 I remember hearing about the Party Dream when I was a sophomore back at Ohio State, six years ago (from what I can remember). Some friends caught one of their shows and were trying to explain their whole shtick to me. It didn't really seem to interest me that much, but a few months later I decided to see what all of the excitement was all about, and really flipped for it. These guys, er brothers
Gil Mantera
and
Ultimate Donny
(real life step-brothers, I hear), were just two normal guys setting up their equipment, and then they came out in costume and they transformed themselves into these flamboyant characters who did high kicks and interpretive dance in between choruses and guitar solos; with each song an article of retro-wear clothing would be peeled off of them by their followers up front. Five songs into their set they were down to their fluorescent bikini underwear, which they really had to fight the crowd from pulling off and exposing them completely to the rest of the bar. At one point a girl jumped onstage wearing a bathing suit and a fur coat peeled back Gil Mantera's bikini and started drinking a beer that her was pouring down his butt crack and into her mouth. I really had never seen anything like this dance-pop circus before, but the thing that really got me was that their music had some great hooks, despite it being campy, self aware and over-the-top in irony.
A few years ago when their debut cd,
Once Triangular
, was released I picked up a copy at
Used Kids
just to hear what a Party Dream album would sound like (actually, my old roommate had their
Best Friends
cdr which he played for me before I had seen them and I didn't really like it) but I was really impressed by
Once Triangular
, and still am to this day. The album was genius in the way that it felt like a live album, due to the live banter and skits that appear in between every couple of songs; those live bits were just essential to the album's flow, which started off as campy and ironic, and eventually revealed a pretty side to the music, especially on the album's apex, "Don't Go." After the album was released the Party Dream toured for a while, but then they just kind of vanished from the Columbus scene. I just kind of figured after a while that they'd kind of given up on the Dream, content with releasing an album that successfully summarized the group's lifespan. And then from nowhere, the always informative "Ear of Cleveland",
Vertical Phil
, informed me of a rumor that they signed to
Fat Possum
(by-way-of
the Black Keys'
, fellow Northeastern Ohioians, off-shoot label
Audio Eagle
), and sure enough, there they were on the Fat Possum website. I was excited for them, but then I started dreading what they would come up with as a follow-up to
Once Triangular
, an album that picked the best of what they had been playing out on for several years. I was prepared for disappointment from the get-go, and that is one of the reasons as to why it took me so long to pick this up. I went with my mom to a Border's around town, and she offered to buy me a cd if there was something that I wanted; couldn't turn that one down, although Border's tend not to stock my kind of music, I figured they'd have something that I could add to the racks. I saw
Bloodsongs
and just went with it (beating out
Mott the Hoople
Mott
, and a replacement copy of that first
Stooges
album that some jerk stole from me five years ago).
I was initially pretty disappointed with
Bloodsongs
, and I think it was mostly due to the fact that the album starts off a little slow, and there were no big hooks or big laughs, for that matter, to keep my attention, but still far from terrible. I gave it a couple of listens, at work and in the car, and finally started to get a feel for a couple of songs here and there. The final track (not the hidden track, which, by the way is the great "Chalklit Phye II" from
Once Triangular
) "Emotion Road," is the one that I really grabbed on to; it took me a few days to stray from that one, after I heard it… if this ain't the hit I don't know what is. It's just a spectacular epic pop song and far more sophisticated than you might initially expect from a group who have been criticized for not taking their music seriously enough. Gil Mantera's Party Dream really do make you wonder if all synth/dance-pop is supposed to be boring live (
Magnetic Fields
(yawn),
Unicorns
,
Postal Service
hey, does Ben Gibbard's fat ass even dare to venture out on stage?
,
Erasure
... you get the picture)? It would be really hard to remove my memories of seeing these guys live while listening to the music, but it does make you wonder what people, who have never seen or heard about their stage personas, will think of this album? With the live clips on
Once Triangular
, you could still get a taste of the g-string, but what about the evil twin? I think that the material on
Bloodsongs
is entirely capable of holding up on its own, but Ultimate Donny's over-the-top boy band vocalizations and goofy, clichéd, nonsensical ponderings would most-likely be lost in the translation. Pick your Wahlberg-
Bloodsongs
is the summer winner, better late than never; it's one of those albums that i'll be able to put on a few years from now and will blur out all of the shit that I've had to deal with over the last few months, into a hazily nostalgic after hours porch party. I suggest that you pick it up sooner than later, anways, September has always counted as the best part of summer in my opinion.