Yes, I am very pleased that one of the best guys I've ever known,
Vertical Phil
, has conceded to join
Marble Stature Blog
. We had a lot of fun writing reviews back in the
Vertical Slum
, so it's excited to be writing again with my old colleague… oh and thanks for revealing all of my guilty pleasures (
Matthew Modine
,
Adam Sandler
, that video clip of
Kelsey Grammer
falling off of the stage,
Bowfinger
) out and onto the table with entry
1.04
, reminding us all that whenever you are at a point in your life that you think that you can start from scratch and somehow renew your identity, there will always be that old friend that reminds us that we never truly grow up. Ha! It's good to have you back!
I was in New York a few months ago and spent a day walking around the Village looking for some "finds," although I was on a pretty tight budget for the trip. I was a little disappointed with the first couple record stores we went to; real "we know what we got" stores, but the long trek down to
Other Music
was well worth it.
15-60-75
Jimmy Bell's Still In Town
(Hearpen, 2003)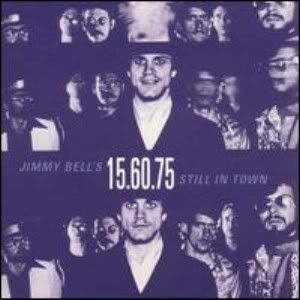 If you haven't heard this album you're really doing yourself an injustice. Originally released back in 1976 on
Water Brothers
(not a misspelling), and then digitalized onto cd (in DIY fashion) by
Reedurban
records, in order to celebrate the Numbers Band's 30th anniversary in 2000, only to be given a proper cd release three years later by
Hearpen
, a label run by longtime friend and fan
David Thomas
. I was given a copy of the Reedurban release a couple of years ago by Rubber City music fan and Columbus' own gin-boy
Turco Gura
, but I couldn't get a feel for it from the first minute or so, so it just sat in my computer. I'm glad I picked it up at Other Music that day, because the Hearpen reissue benefits from better sound and some of the most eloquent liner-notes I've ever read. Although, he's not credited for writing them, these must be the work of Thomas, who's writing is quite unmistakable for anyone who is well versed with his work as frontman of Cleveland's greatest non-athletic institution,
Pere Ubu
. The liners give a succinct history of the Numbers Band; unveiling the many interesting and progressive concepts that time had buried beneath the noise. I was considering typing them out for you, but the magic would be lost, so you're going to need to just pick it up, put it on, and snap into the Numbers' hypnotism.
I was talking to
Mike Rep
a few weeks after I bought this reissue and he told me it is his
all-time favorite Ohio album
; which is interesting because it doesn't really sound much like anything that's ever come out of Ohio. They're armed with dueling saxophonists (one of them horns is none other than
Chrissie Hynde
's brother
Terry
) that weave
Stax
-type R&B and avant-garde
Impulse
screeching into a magnetic accord.
Robert Kidney
is the singer/songwriter of the band, his voice is cooler than
Lou Reed
's, and has a certain cadence that just adds another layer of percussiveness to the
David Robinson
's tight drum set and brother
Jack
's rolling hand drumming. The twin guitars are articulate and hold the true Blues rhythms, acting as a foil to the Saxophonists freedom. The antithesis of
Led Zeppelin
's
The Song Remains the Same
, each minute brings a new thrill, a new peak, a new insight like some wicked crystal ball foretelling the past, present and future of the Blues in one psychedelic vision. Yeah... wow.