The Tabula Rasa: if you read back to entry
1.01
you will know that I used to be a writer/critic (albeit flair, for the lowest level), and that recently several factors have persuaded me to jump back into the hot-seat. So there's a certain conflict that I am facing, because the reviews I wrote for the first issue of 'The Slum' we're quite terrible compared to the quality (is that even the right word?) of the last issue. So how do you begin? I thought about writing about something current and local, but it would lack a certain context that, unless you were an avid reader of the
Vertical Slum
or a good friend of mine, you would not know (1) where I'm coming from, insofar as tastes and knowledge and (2) where I intend to go. Of course, I expect very few people to actually read this any time soon; there still is a level of quality that you want to establish from the commencement. I decided to start off with something close enough to home, yet far enough in time to show some sort of where I am coming from…
Peter Laughner & Friends
Take the Guitar Player For a Ride
(Tim Kerr, 1994)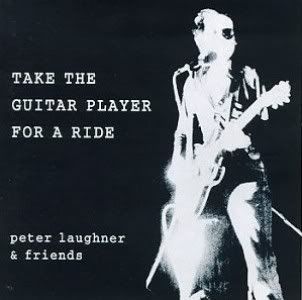 I think there's certain legitimacy to the claim that there was a renewed interest in the work of Peter Laughner over, say, the last 7 or 8 years due to
Wilco
's break-through double album
Being There
. The haunting opener "Misunderstood," still a staple of their live set, quotes a few lines from Laughner's "Amphetamine." Although none of us really knew the extent of the quote, because it's safe to say that the majority of Wilco fans at the time did not to stray very far from the alt-country/roots-rock that was "it" for a few years at the end of the 90's. Of course
Yankee Hotel Foxtrot
really changed that, but who cares!? Luckily, many people (myself included) did some research and found out that the guy was at one time a member of
Pere Ubu
. But if you listen to
Terminal Tower
, it's fairly hard to decipher Laughner's genius apart from, well, the genius of every member of the group (c'mon, it's Pere Ubu we're talking about here). I borrowed the
Datapanik
box from an old roommate of mine and remember hearing "Amphetamine" for the first time; it was so different from Pere Ubu, and I think that's why I grabbed onto it so quickly. I didn't think that it sounded much like "Misunderstood" at all. For a long time I looked for more
Rocket From The Tombs
stuff but never had any luck. I even found out, while visiting the Cleveland's Westside with an ex-girlfriend, that Peter Laughner was at one time married to her aunt, Cleveland historian/poet/writer
Charlotte Pressler
. My interest in Laughner/RFTT died down a bit after I heard in first person what a complete jerk my ex-girlfriend's parents thought he was (they even likened him to Howard Stern- tall, arrogant, obnoxious, etc). Thankfully in 2002,
Smog Veil
released the almighty
The Day the Earth Met the… Rocket From the Tombs
. I finally understood what the big fuss about Laughner was all about; his guitar is a squealing, shrieking wall of solos, and his songs "Seventeen," the snarling "Ain't it Fun," bratty "Life Stinks," and the original version of "Final Solution" were frustrated teenage-hedonist anthems. The image of a 70's rock' n roll hero (ala
Rock 'n Roll Animal
or
Ziggy Stardust
) seemed to fuse perfectly with the description of Laughner that the ex's parents gave me- hell, the version of "Amphetamine" on this puppy could blow out The Who in all of their
Rock 'n Roll Circus
prime (but honestly who gives a shit about
The Who
anyhow?). I still listen to that Smog Veil album regularly, and of course, I've known about
Take the Guitar Player For a Ride
for some time now, but being the highly sought after collectible that it is, I could never find it for a "reasonable" price, so I just kind of gave up; content with the Smog Veil retrospective. But a few months ago, one of these suckers popped up on eBay and I finally just decided to grab a copy while I still had the money.
I put on the cd and started leafing through the booklet and was immediately struck by this picture of a smiling Pressler seemingly in mid conversation, a forward-looking Laughner with a knowing grin, and "an unknown admirer," eyes shut and leaning the back of his head on Laughner's shoulder, on the first page of the booklet; the exquisite "Baudelaire" is on, sounding like something off of
Blood on the Tracks
.
Clinton Heylin
, author of
From The Velvets to The Voidoids
, titled the liners "Searching for Peter Laughner" and likened Laughner to
Robert Johnson
. Sure the two had their share of personal demons, but don't we all? Those liner notes are 13 years old, and were written long before Wilco, and
Guns 'n Roses
did their part to get the guy's name out; these were written 9 years before the Smog Veil retrospective saw the light of day, so in order to find out anything about Laughner, Heylin had to go straight to the source; interviewing past members of Rocket From the Tombs, Pere Ubu, and his ex-wife Charlotte. It makes sense that Heylin himself compiled the album from a wealth of home demo tapes and concert footage that Laughner left behind without the intent of seeing them released, because the album has a nice narrative quality to it's compilation, ending with a cover of Robert Johnson's "Me & The Devil Blues," which was written the night before Laugher's death. The material on "Take the Guitar Player for a Ride" straddles the whole spectrum of critic rock, covering, in addition to Robert Johnson,
Eno
's "Baby's on Fire," and
Richard Thompson
's "Calvary Cross," the latter which is given a exquisite violin/guitar treatment by Laughner's cover-heavy group Friction and even surpasses the original. Really. "Dear Richard," an "answer to an unwritten suicide note" is a raging rocker with a great chorus, but the majority of the material here is more reminiscent of
Dylan
or even early
Springsteen
stuff; just an acoustic and a voice captured on a tape player after bars close, after the bands get paid, after the point of emotional and physical exhaustion. What you hear on this album are songs that are straight soul, not a performance. There's a cohesive sloppiness that ranges from the stuttered chord changes of "Cinderella Backstreet" to the drunken ramblings of "Only Love Can Break Your Heart," that don't matter in the long run, because they are devastatingly descriptive of a man who's number was just about up.
If you think there was more to Peter Laughner than the bigger-than-life rock star face that he put on, you're right; this is the most heartbreaking look into a side of a man who tried so hard to conceal the pain of his past and the ultimate hopelessness within his own life. This sort of thing would actually be kind of hard to listen to if the intentions that are conveyed in his songwriting weren't so poetically universal and personal at the same time. This is one collectible that is worth every cent, in fact it's scarcity is more than appropriate.