Cheer on the Buckeyes tomorrow as they take on... Bowling Green?! Yes, it should be a blow out, so I will probably be spending my Saturday (for the first time in a month in a half) not watching College Football, but instead pounding some beers with the girlfriend down in Newport for Oktoberfest. Sounds good to me.
Kousokuya
First Live 1979
(PSF, 2006)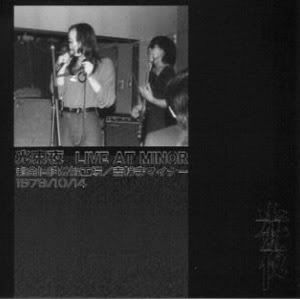 After reading, um,
Roland Woodbe
's "voicemail from a concerned mother" review of this disc last week over on the
Siltblog
, and I had a hunch that this was going to be good (or at least interesting) so I visited my old pal
Forced Exposure
and ordered myself a copy. Now, I admit that I know next to nothing about the Japanese underground, psychedelic speed freak scene, but I don't think you really need to be up to snuff to dig this one.
First Live 1979
is immediate yet expansive, and is definitely going to make you want to do some research. As you may have guessed from the title, this album captures Kousokuya at their most embryonic, a stage of the band that has only this new release to serve as a document. The three-song set warms up with girl-voice bark 'n wail, over rolling random guitar and drums, and equaled by the industrial synthesizer. I don't know if it is just because I have been listening to
Trout Mask Replica
a few times in the last couple days, but Kousokuya's vocalist,
Mick
, reminds me of a female
Beefheart
in the way that she can couple tuneful melody with creative expressiveness. Ok, I admit that that might have been a little far-fetched, but I think that you get the point: that this stuff is more from a Beefheart/Psych Rock tradition, than anything punk or "post"-punk. Eventually the noise morphs into a steady beat and melody, but the guitar, girl-voice and synthesizer play hopscotch to the bass-drum, creating an intoxicatingly modern dance… and
Chuck Berry
is nowhere to be found. To top it all off,
Fumio Kosakai
(of
The Incapacitants
,
Hijokaidan
and
C.C.C.C.
infamy) articulately recounts the artistic de-evolution of Kousokuya, which was thankfully in both Japanese and English. Very interesting stuff, indeed; chaotic and deconstructive, but (I swear) you'll actually enjoy listening to it, much less obsessively guarding your copy from wear and thievery (I'm still bitter about some jerk that stole a bunch of my shit, while I was in the Berkshire Mountains for a few months of the summer of 2002).
Where was I? Oh yeah, Kousokuya is so good, that I wonder why I've never heard their name uttered in hipspeak? Maybe I have, but after hearing this you'll find that they are the type of band that you'll never forget. Kosakai nicely wraps up his piece with emphasis on the obscurity of this incendiary recording: "The fact that that Instant of Illumination should have been captured on tape and now released on CD is nothing short of miraculous. But it's a miracle that many music fans deserve to hear." I can't help but to agree,
First Live 1979
is miraculously timeless, in every sense of the word.