I was working in the studio a couple weeks ago listening to an
Art for Spastics
(see entry
1.20
) show that I had downloaded over dinner. It was a great show, and then I heard this fucking amazing song that had just embedded itself into my head. I just couldn't escape from its hypnotic grip. I did some digging, kidd.
Pumice
Yeahnahvienna
(Soft Abuse, 2006)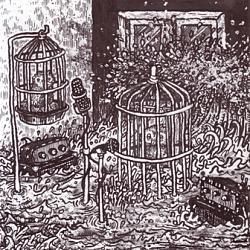 "Brawl" was featured on Art for Spastics as a live (in-studio) recording that will hopefully be coming out soon via the
KDVS
label, but you know how these things go… but case in point, both versions sound like reverb drenched in magic. Seriously,
MAAAN
… magic.
Yeahnahvienna
is, remarkably, a live album, recorded two years ago during an artist residency in Vienna, Austria. I say remarkably because unlike all of those other four-track bedroom whack-offs, this guy,
Stefan Neville
, is an actual one-man noise band/singer. Hailing from- you guessed it- New Zealand, Neville is perhaps the most exciting thing happening there right now (at least of the stuff that has made it over to the States), but as it turns out Pumice is nothing new over there. He's been performing and making DIY albums (primarily released on cassette) and singles for the past 15 years! I found an old website (
here
) which has a discography dating up to 2003 which is definitely worth having a look at, since it gives you a good idea of the level of prolificacy we're talking about here. Anyways, back to
Yeahnahvienna
… this album is very complex in the way that Neville juxtaposes noise and song into a single performance of choreographed limbs and voice. 'Noise' as music is often criticized as not directly relating to the body, and in the past couple of years there has seemed to been a whole movement of bands which try to soften noise so that it more-often-than not exists as an additive creation; a backdrop to freak folk or whatever's the hot deal. Here, Neville succeeds in marrying noise music to the intimate and personal scale of the body. Limited by contradictory rhythms and gravity, you can directly hear the tension of the body being affected by the physical constants of the universe in every nuance (
MAAAN
… I'm telling you, it's magic).
The album as a whole can be split, albeit somewhat superficially, down the middle, dividing the more noise-oriented and the more song-oriented, but really the only significant difference is whether or not the piece is an instrumental or contains singing, as the two sides of Pumice seem to be completely codependent and can not be isolated from each other without collapsing into mediocrity. Thankfully, this tension between the song and the noise is surprisingly relentless.
Yeahnahvienna
could be kissing cousins to
At Swim Two Birds
' neo-classic rumination on the darkness (and a
Vertical Phil
favorite),
Quigley's Point
, but most people seem to compare Neville with fellow New Zealand native
Alastair Galbraith
(who made a name for himself throughout the 80's and 90's with an excellent solo career and fronting a pair of short-lived oddball groups such as
Plagal Grind
and my favorite,
The Rip
). That comparison is also fitting, especially when you hear him on the opening track, "Abominable," which is almost unsettlingly gentle (in all but subject matter) compared to the whole of
Yeahnahvienna
. That's not to say that this is a difficult album to get into, if anything, it is inviting and intriguing rather than disorienting, and its complexity is masked by passages of intoxicating beauty which just seem to reverberate within the noise long after the passage has slipped in the next subsequent movement. The depth of
Yeahnahvienna
, opens itself to be dissected analytically, and ultimately is an interesting and boundlessly rewarding album- easily one of the year's best. I can't believe that I missed him on his US tour this summer, but I was a few months late in moving to Rhode Island. Shit luck, shit luck, in the meantime, there's plenty here for me to enjoy. Get over to the
Soft Abuse
website
and grab yourself a copy before you start drafting up your best-of '06 lists.