I got a pair of records in the mail today from
My Mind's Eye
in Cleveland,
The Easter Monkeys
'
Splendor of Sorrow
and
Numbskull
's
Final Days of Torture
) and it got me thinking about all of the eccentrics in my life that are from Cleveland.
The New Year
Newness Ends
(Touch and Go, 2001)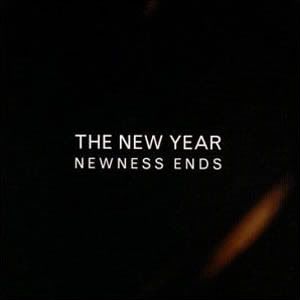 Matt
and brutha
Bubba Kadane
made a career throughout the 90's writing sad and sleepy songs as
Bedhead
, a group that embodied the "slow-core" genre with a yawn and a stretch. I never really heard anything from them that ever got me interested enough to care (…I'm getting sleepy just writing this). That all changed around 2003, while cruisin'
Pearl Alley
, either coming from or headed to
Bernie's Happy Hour
, (back when
Tree of Snakes
' singer
Jeff Fernengel
deemed it was "the thing to do" on a Friday night) with "the most eccentric"
Vertical Phil
(fact: "the most eccentric" is an actual award to be won at the annual
CDR-BBQ
). In his typical ecstatic Friday night state, Phil was worked up about this album from the Kadane's new band, The New Year. This ain't no Bedhead! It was upbeat and exciting (especially on the first three songs), and I think we officially had own minds blown by "Gasoline," which is still up for download on the
Touch and Go
website…
hurry!
Packed tight with drummer
Chris Brokaw
, who has played drums for
Codeine
, the excellent
Mission of Burma
side-project
Consonant
, and
Evan Dando
(with that pedigree- it's no wonder Phil liked The New Year so much), to name a few, The New Year is a fiery indie-outfit sized up like a
Silkworm
sans
Shellac
. When the tempo drops down a notch, we don't get so much Bedhead, as we do get reminded of Canadaddies
Broken Social Scene
and Pitchforked and "rah-rahed" Ohioans turned Brooklyn babies,
The National
(can't say that I agree much with
Pitchfork
these days, but I did like
You Forgot it in People
and
Alligators
).
Yeah- I think that
Newness Ends
should have been as recognized as those albums, and probably would have if it didn't look so deceptively resemble "another Bedhead album." The New Year put out a follow-up to this called
The End is Near
, but I don't remember much about it except that Phil dug it at the time. Maybe it's time to give that one a listen, because my random impulse to reach for
Newness Ends
last night really hit the spot.