Back when I was a kid, it'd be snowing by now. Head on over to
The Z Gun
, as it has been updated. I didn't have any time this month (finals) to throw any reviews their way, but rest assured I will be contributing for January's update, as I am now on fuggin' break and ready to head back to Ohio next weekend.
Raven
Back to Ohio Blues
(Owl, 1975)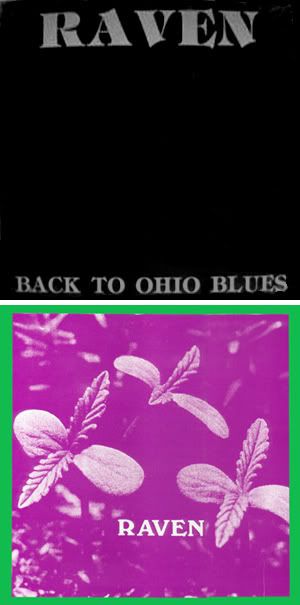 It makes sense that information about this LP is about as mysterious as the moniker. I guess that this pup is one of the most valuable records that's ever been released by a guy from Columbus, fetching close to a grand for copy on eBay, not too long ago. Originally pressed in an edition of 500 on
Owl
records (also a creature of the night), but reissued twelve years ago in another edition of 500 LP's on
Rockadelic
with a new more colorful and overall pussier cover (by-the-way, the Rockadelic pressing is also long gone).
Jared Phillips
from
Times New Viking
played a cdr copy of this last summer and he sat around drinking beers to it. I had never heard of it; I guess
Mike Rep
burned him the copy and said that Raven was some biker local that wrote and played all of the instruments on this, his sole release, and then died of an O.D. months after… or at least that is the version I remember. Anyway, I was pretty excited to see that somebody had a copy of this to download, so now I am able to give it some of my hard-earned free time and shit out a little nugg about
Back to Ohio Blues
.
This must've had a big impact on Rep, as it sounds a lot like some of that good old early
Quotas
/
True Believers
stuff that we all rub our dicks over. Maybe if the guy stuck around here a little longer Raven could've shared a little of
The Godz
' headlight, because frankly this is a lot better; darker, and less tongue-in-cheek.
Back to Ohio Blues
is split between snappy rockers reminiscent of
Aerosmith
's better days (but imagine
Alice Cooper
in place of
Steven Tyler
) and longer acid-blues workouts, the most notable being the titular track, which is so seedy that you can just picture the guy shooting up in between the overdubs.
I don't know how this slipped by
Chuck Eddy
while writing the quintessential Heavy Metal guidebook 'Stairway to Hell,' but this is definitely worthy of a spot in the better half of the 500… maybe taking the place of one of those shit
Kix
albums.