Eh, after doing some much-needed apartment cleaning, I don't feel like much of an introduction today.
A-Band
Artex/Alot
(Siltbreeze, 1993)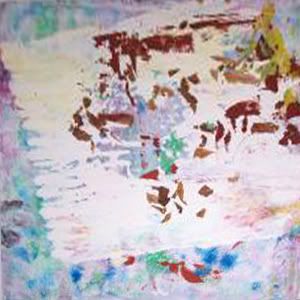 This classic
Siltbreeze
title is comprised of two live songs/sets. The first starts out like some later-day
Roland Kirk
accompanied by a few
Dust-Devil
ed harmonicas and saxes, before a bass guitar lays down a droning groove, and the drums slowly trip into the bass' beat while white alarm noise sears in the distance. Gasp! ...long sentence. Are those vocals or is that a crusty record of ancient war chants? The voices and saxes exchange back-handed blows of singularity and multiplicity, near and far, sneaky and blunt, within the confines of the cave-like walls of
The Wharf
. I don't know much beyond the names of A-Band's
Neil Campbell
and
Richard Youngs
, but you gotta start somewhere, and this is sounding right quite nice following an afternoon of thorough house-cleaning and record-dusting.
The B-side, "Alot," is more cacophonous; the rapture from the other side of the table. A guitar gets played like a tornado on the prairie sending
Danny Taylor
's infamous drumset up and down the cellar stairs while the keys only seem to get tickled and wiggled by the gale. Like "Artex" eventually the mess stumbles around into some logic behind alternating movements of primitive and technical drumming, and the alarm motif from the A-side is once again revisited, but vocalized this time, bringing this chaotic LP to an wailing conclusion.
Contrary to my initial feeling about this release, it's been much more of a mindfuck 'n headache to track-down a copy than it has been to listen to.